I was only able to call them up when our train (in the midnight) was about touch the Amritsar Railway Station, I must say they were very prompt with there service. Randeep ji himself came up with the cab and the service

Posted By: Mahesh Karkare, Chief Accountant, Mumbai

Date: 2010-02-25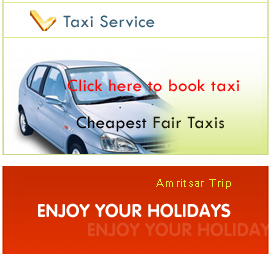 About Us

Amritsartrip.com

Welcome to the holy city of Amritsar, the city with the perfect blend of tradition and modernity, nature and culture. They say your visit to North India is incomplete if you have not taken a holy bath in the Golden Temple. Apart from this here are some of many reasons for you to visit Amritsar.

Amritsar as a city presents the true spirit of India and Punjab especially. A city invaded by many and saved by even more has so many ancient scars on its bossom, the brutal massacre by Gen. Dyre in Jallianwala Bagh among the most prominent.

Apart from Golden temple and Jallianwala bagh; Durgiana temple, Model town Temple and Hall gate adds to the charm of the city. But that's not all; there is Lawrence road with all its throbbing city wise and delicacies to woo your appetite.

So all in all a visit to Amritsar will be a "bliss of solitude" whose vibrations will force you to visit the city time and again.

To add to this we would also like to invite you for a holy pilgrimage of the Vaishno Devi Shrine, whose name in itself is true embodiment of hindu mythology and religion. The distance of just five hours from Amritsar makes the clubbing of both the trips inevitable.

So do visit to purify your soul with the blessings of both the worlds.